PRINCE2® Foundation Package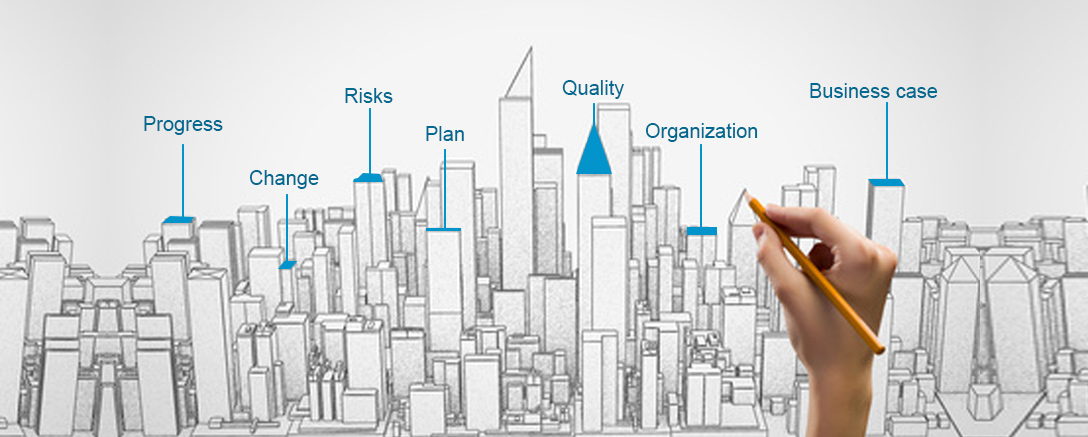 Formalise project management skills with this PRINCE2® Foundation package training course. Widely regarded as one of the best management methodologies for large, complex projects, PRINCE2® experience and knowledge is rapidly becoming a "must-have" for managers in enterprise class organisations and public sector bodies
The PRINCE2® Foundation package is the first step towards certification, helping students understand the core tenets of the methodology and how they are applied to new projects. As such, the Foundation course is suitable for:
Project managers who need to formalise their experience or who are cross-training from another project management discipline.
Managers and supervisors responsible for working on PRINCE2®-managed projects.
Project stakeholders who want to better understand the PRINCE2® being used in their workplace.
Consultants who may be hired to assist with PRINCE2®-managed projects.
Professionals who want to cross-train into a new career.
Using a range of instructor-led videos and self-study resources, students will be able to learn whenever and wherever best suits them. The inclusion of self-assessment tests also ensures that participants can accurately gauge their progress, and identify potential weaknesses before sitting the PRINCE2® Foundation exam.
KEY LEARNING POINTS
Over the course of 12 modules, candidates will be taken through each of the PRINCE2® principles, and the various stages involved in a project managed using PRINCE2®. Along the way, students will learn:
The importance of the Starting Up a Project (SUP) and Initiating a Project (IP) processes, and the activities that need to take place with each.
The Controlling a Stage (CS) and Managing Product Delivery (MP) processes that help ensure deliverable quality throughout the project.
Directing a Project (DP), Managing a Stage Boundary (SB) and Closing a Project (CP) processes that govern project progress and ultimately, its conclusion.
Participants are then taken through a number of themes that are applied to all PRINCE2® projects :
The organisation theme that helps define the structure of the project and human resources required to staff it.
The business case theme that provides the reasons behind the project, and the expected benefits and outcomes.
The risk theme that is used to capture details of potential problems and how they each will be handled.
The plans theme that records details of expected activities and goals at project, stage and team levels.
The quality theme that is used to maintain acceptable standards throughout the project lifecycle and beyond.
The change theme that helps project managers and stakeholders balance changes against expectations as the project moves forward.
The progress theme that helps define project controls and ensure that stages are completed on time and budget, and that issues and exceptions are escalated effectively.
Upon completion of the 12 course modules, students will have the knowledge and skills required to sit and pass the PRINCE2® Foundation certificate exam. They will also be able to begin implementing their new abilities to all future projects with immediate effect.
ADVANTAGES OF THIS COURSE
The PRINCE2® Foundation course is designed to provide a basic understanding of the project management methodology and to prepare professional project managers for use of the framework with their own projects. As such, students can expect:
To be able to better manage projects, using the granular nature of PRINCE2® to deliver significant time and cost savings without compromising the quality of deliverables.
To add new value to project teams as they begin to apply their new knowledge.
To broaden their employment options through their newly increased skillset.
To have everything they need to sit and pass their PRINCE2® Foundation level exam.
Using a series of instructor led videos and self-study manuals (Manuals are sold separately at an additional cost.) the PRINCE2® Foundation & Practitioner Package course delivers 12 modules worth of training online via our learning platform. The platform provides students with 24x7 access to content so they can study whenever and wherever is most convenient for their needs.
For many large enterprises, PRINCE2® is now the only recognised project management methodology in use. As a result project managers must have at least a foundational knowledge of the framework if they are to be working with such organisations. PRINCE2® courses are run in association with SPOCE Project Management Ltd.
Upon completion project management courses you can apply to gain your PDU points.
PRINCE2® is a Registered Trade Mark of AXELOS Limited.
The PRINCE2® Licensed Affiliate logo is a trade mark of AXELOS Limited.
Getting Started
What content does the e-Learning cover?
Getting Started What is a project?
Projects vs Programmes; What is Project Management?
Why PRINCE2®?
Reasons why Projects Fail; Addressing Project Failure.
Introduction to PRINCE2®
PRINCE2®
Structure; The 7 Principles, Themes and Processes.
Processes SU and IP
Starting Up a Project (SU) Activities and Management Products including the Daily Log, Lessons Log, Project Brief, Project Product Description and Outline Business Case.

Initiating a Project (IP) Activities and Management Products including the Management Strategies, Business Case, Product Descriptions, Risk, Issue and Quality Registers and the PID.
Processes CS and MP
Controlling a Stage (CS) Activities and Management Products including the Issue Report, Checkpoint Report, Plans, Product Descriptions, Configuration Item Record, Product Status Account, Lessons Log, Highlight Report and Work Packages.

Managing Product Delivery (MP) Activities and Management Products including the Work Package, Checkpoint Reports, Quality Register and Team Plan.
Processes DP, SB and CP
The objectives and context of the Directing a Project (DP) process; How the DP process supports the sevenPRINCE2® principles; The responsibilities within the activities of the DP process; The activities within the DP process including End Stage Assessments and Exception Assessments.

Managing a Stage Boundary (SB) Activities and Management Products including Stage Plan, End Stage Report, Exception Plan, Product Status Account, Lessons Report.

Closing a Project (CP) Activities and Management Products including End Project Report, Lessons Report, Benefits Review Plan.
Organization Theme
Organisation Structure, Roles and Responsibilities for Project Board, Project Assurance, Change Authority, Project Manager, Team Manager, Project Support
Business Case Theme
Outputs, Outcomes and Benefits; Types of Business Case; Benefits Review Plan; Links with the processes.
Risk Theme
Risk Management Strategy; Risk Register, Appetite and Tolerances; Risk Responses; Risk Management; Risk Budget. Links with the processes.
Plans Theme
Project, Stage and Team Plans; Product Based Planning; Estimating; Scheduling; Links with the processes.
Quality Theme
Customer Quality Expectations and Acceptance Criteria, Quality Management Strategy; Quality Audit Trail; Project Assurance vs Quality Assurance; Quality Control, Links with the processes.
Change Theme
Issue and Change Control Procedure; Types of Issues; Change Budget; Change Authority; Configuration Management Strategy.
Progress Theme
Tolerances and Delegating Authority; Management Stages; Project Controls; Event-based and Time-based controls; Reviewing and Reporting Progress, Escalating Issues and Exceptions.
Examination Approaches
Hints and tips on exam approach; Style of questions; Full Foundation and Practitioner exam simulation with references to the PRINCE2®Manual and interactive adaptive reasoning feedback.
This Course has a PDU (Professional Development Units) Value of 21.
What are PDU's?
How to make your claim for PMI PDU's
Course Code
EC111811
Type
Online Course
Course Access
6 Months
Exams Included
No
Associated Examination
PRINCE2 Foundation Exam
System requirement
Processor
1 gigahertz (GHz)
RAM
1 GB
Operating Systems
Windows 7
Windows 8
Browsers
Internet Explorer 8 or above
Google Chrome
Safari 6 or above
Mozilla Firefox
Flash Player
Latest version
Compatibility
Windows, Mac
Test your PC's speed and Compatibility for Free
Click here
QUICK ENQUIRY